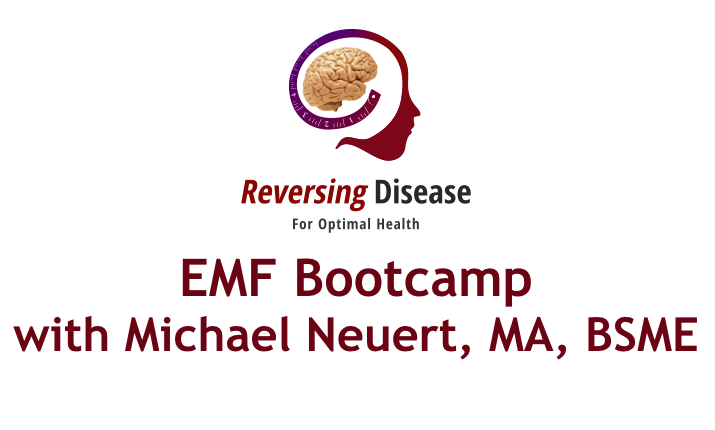 In 2013, we invited EMF expert Michael Neuert, MA, BSME from the EMF Center in Santa Rosa, CA to support our members in reducing the EMFs in their environment by launching a 5-part bootcamp. Electro-magnetic Fields create chaos in our bodies that propagates disease at the cellular level, and this program addresses questions galore on how to deal with EMF in our homes and offices on our road to optimal.
Michael is going to give you the low-down on what you can do RIGHT NOW to begin reducing your EMF exposure, even before you buy a meter and start measuring.

Here are the topics for each of the 5 webinars:

Top 11 areas for Reducing EMF (things you can do without a meter!)
About Magnetic Fields (Power lines, wiring)
About Low Frequency electric fields (electricity, body voltage)
About Radiowaves (cell phones, towers)
About Rewiring and new constructions, faraday cages, Final Q&A
In each of these webinar recordings, we have drilled into the ins-and-outs of EMF in all its forms, how to test for it, what to do with high readings, and so much more.  This webinar series is offers you a MASSIVE education on EMFs!  The weekly webinars include lots of Q&A to help us unpack the different kinds of fields we'll encounter and what to do about them.
Michael charges $120 / hour for phone consulting … spending this kind of time learning from him would cost you well over $1,000, just for his counsel alone!   But we've got your back! We have worked out a special deal with Michael for you to sign up for the EMF Bootcamp for only $199 (Silver Klub, Gold Klub & Platinum Klub members get a deeper discount.)
Sign up for the EMF Bootcamp ($199)